Continuing Our Founders' Dedication to the Environment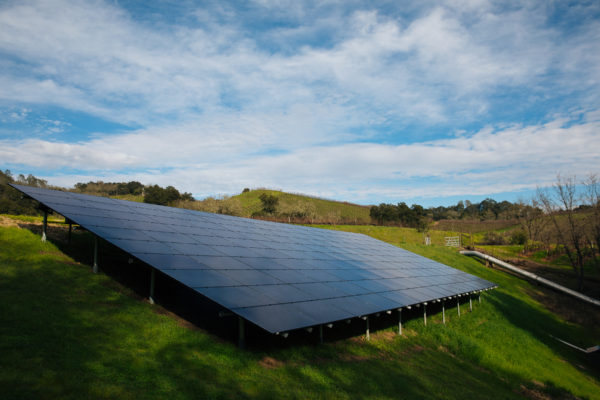 Anyone visiting Seavey will hear about our land and ecosystem as well as our wines. Without calling attention to it, founders Bill and Mary Seavey were extraordinary stewards of all that Mother Nature gives us here at Seavey. They believed in creating a balanced ecosystem that does not stress the land nor its precious underground water resources.
Rather than aggressively expanding our grape farming, Bill and Mary kept our farmed acreage proportional to our modest wine production facility, and created valuable virtuous circles of recycling and reuse. At harvest time, for example, our beef cattle are enlisted to digest huge amounts of grape rachis, and many years ago the five Seavey sons cut their teeth on creating long composting rows for our grape pomace.
In 2003, Seavey installed one of the first winery solar projects in Napa Valley on top of an old barn roof adjacent to the winery–by today's standards a small number of panels, but one that met most of the electricity requirements of our tank room and cave. Thirteen years later, in 2016, we installed a much larger solar array that, together with the old system, generates enough solar power to support 85 percent of our electricity requirements, thus dramatically reducing our carbon footprint and contributing to our sustainability goals.
Seavey's second generation is dedicated to continuing and expanding these beneficial environmental practices. Over the last two years, we've made concerted investments to ensure that our winemaking operations rely on renewable energy and minimize resource use and reduce waste. And on the farming side, we have continued to put in place practices that are regenerative and sustainable.
The end result? Wine that is produced with a great deal of consideration to using both the land and other resources efficiently and sustainably, and land that is protected so that we can preserve its gifts for generations to come. Is it possible that someday wine labels will read "Our wines are sustainably estate grown, and solar produced and bottled"?
We invite you to learn about our sustainability projects here.