Seavey #35 of Jeb Dunnuck's Top 100 Red Wines of 2019
Seavey's 2016 Cabernet Sauvignon listed as number 35 on Jeb Dunnuck's Top 100 Red Wines of 2019 world wide.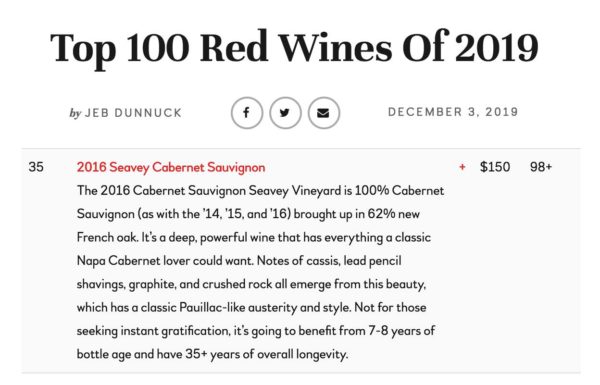 The below list is a selection of the top red wines that were tasted over the past year and reviewed at JebDunnuck.com. As in 2018, 2019 has been a wealth of riches for wine lovers with great vintages in the Rhône Valley (both north and south), Bordeaux, Napa, Washington, and the Central Coast all hitting the market. The 2016s from Napa Valley and Bordeaux dominate the Top 100 this year, and this was a brilliant vintage for both regions.
The selection is based on a combination of overall quality, price, availability, and a little bit of Wow Factor, and was made by scrolling through over 10,400 reviews (which is a record number of reviews in 12 months for yours truly) and painstakingly cutting the list to these 100 wines.
Link to full article: https://jebdunnuck.com/2019/12/top-100-wines-of-2019