2013 Caravina Cabernet Food Pairing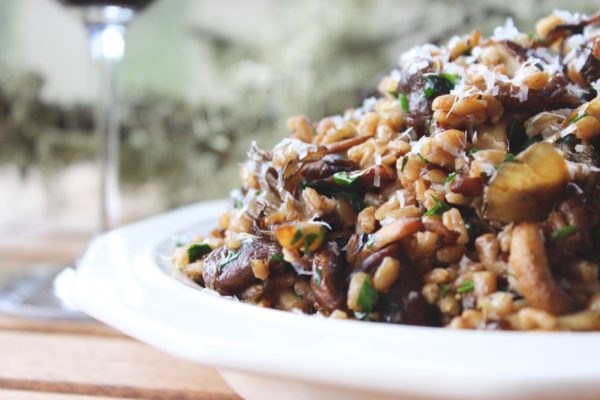 We're excited to share a recipe by Annie Seavey Jefferson, created to pair with our 2013 Caravina Cabernet. Annie is the granddaughter of Seavey founders, Bill and Mary Seavey, and the daughter of Dorie Seavey. Annie's recipe provides a unique and complimentary pairing with our bold 2013 Caravina and we believe you will love it as much as we do.
It is an honor to have a third generation Seavey exploring wine's connection to food and fine cuisine. We look forward to sharing more of Annie's creative energy and recipes with you.
---
Warm Farro with Wild Mushrooms and Melted Shallots
I've been coming to my family's vineyard and winery in Napa Valley since I was born. I learned to swim in the pool here, listen for rattlesnakes near the big rocks by the winery, cook with my Grandma, and eventually to pay attention to the flavors that followed the grapes from our land to the bottle. It's such a special place, and one that has only in recent years occurred to me to be so much more than just my grandparents' home.
When I was asked to develop a recipe pairing for Seavey, which is known for its big, bold Cabs, and specifically for a vintage described as "fierce," "masculine" and displaying "muscular intensity," I knew this wasn't going to be all layer cakes and lattice pies for me. Traditionally, a red wine as robust as a Cabernet Sauvignon would be paired exclusively with red meat. In other words, look no further than grilled marbled ribeye and a deeply tannic Cab for the perfect pairing.
But I was curious to explore a non-meat pairing. After all, California cuisine is about openness and flexibility, a reliance on seasonal, local and fresh ingredients, and greater flexibility when pairing wine with food. I wanted the style of this recipe to reflect the local region and have a shared sense of place with the wine.
So I decided to consult our family friend and former executive chef of Chez Panisse – Jean-Pierre Moullé -who worked at this epic Berkeley restaurant during the time of the its greatest influence on California cuisine.
Jean-Pierre suggested a farro salad with roasted vegetables and fresh greens. Farro, with its nutty heartiness and a satisfying chew, is a wonderful starting place for a food pairing with a "big Cab." Toasting the grain in the oven will bring out an extra layer of nuttiness. Wild mushrooms – shiitake and maitake – were chosen for their rich umami content which complements the savory flavors in Seavey Cabernets. These are browned in butter over high heat, tossed with shallots and garlic, and deglazed with a splash of white wine. A spoonful of maple syrup and a pinch of cayenne extend the flavor dimensions to the mushrooms, and mirror the nuanced complexity of the wine, which offers hints of plum, spice and sweet floral notes. While the ingredients are still warm, fresh herbs, lemon juice and grated parmesan are added to help bind the dish together, while contributing layers of acidity and freshness. The end result: both the dish and the wine light up the taste buds at the back of mouth, and end with a textured, soft finish.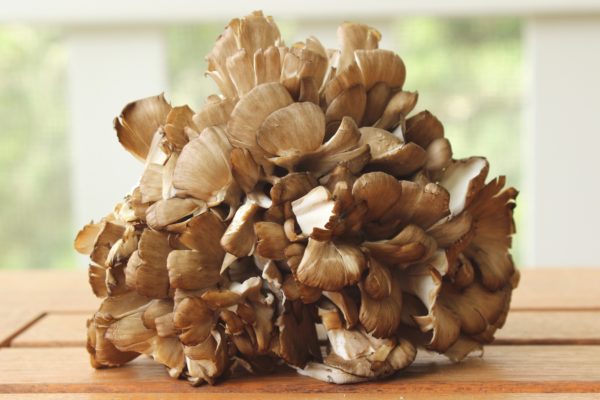 Ingredients
1 cup uncooked farro
salt for cooking water
3 shallots, finely sliced
2 garlic cloves, minced
1/2 pound wild mushrooms, cleaned and cut into bitesize pieces*
olive oil
4 tablespoons butter
white wine
salt & black pepper
1 tablespoon maple syrup
1/4 teaspoon cayenne pepper
2 tablespoons fresh flat leaf parsley, chopped
2 tablespoons fresh chives, chopped
2 tablespoons fresh thyme, chopped
juice of half a lemon
¼ cup freshly grated parmesan
*We used equal parts shiitake and maitake. You can use whatever wild mushrooms you come across – chanterelle, oyster, porcini, crimini, etc. Avoid cultivated white button mushrooms. Whatever you find, cut them into pieces if they are too large for a bite, but not too small, as mushrooms have high water content and so shrivel up when cooked. I like to cook the maitake separate from the other mushrooms. This is because they have thin, tender petals, and crisp up beautifully if given enough space in the pan. I also like to add sweetness and heat to them because it brings out their rich umami flavor. If you can't find maitake for this recipe, feel free to cook all your mushrooms together.
Method
Heat oven to 350° Fahrenheit. Rinse your farro under cold water and drain. Spread farro on a baking sheet and toast in the oven for 10 minutes until fragrant and golden brown.
I like to cook my farro like I cook pasta. This protects it from overcooking and becoming sticky. Bring a large pot of heavily salted water to a rolling boil. Remove farro from oven and add to boiling water. Turn heat down to medium and boil farro until al dente – tender, but not mushy. Drain the farro and spread it on a baking sheet to dry and cool. You may also soak your farro overnight in the refrigerator and follow the same instructions, reducing cooking time to about 10 minutes.
Heat two frying pans with a tablespoon each of olive oil and butter over high heat. Add the maitake to one pan and the shiitake to another. Allow the mushrooms to cook in the pan untouched for 5 minutes or so. If they begin to burn, turn the heat down slightly. As soon as the mushrooms release their liquids add another tablespoon of butter to each pan, followed by half of the shallots and garlic to each. Stir until incorporated and then let the mushrooms continue to cook, stirring only occasionally so that they can brown and crisp.
Your mushrooms should be slightly shriveled and browned with bits stuck to the bottom of the pan. Add a generous splash of white wine to each pan and allow the liquid to cook off, scraping the bottom of the pan with your spoon as you go. Add maple syrup and cayenne to the maitake. Stir. Remove from heat. Add salt and pepper to taste to both pans of mushrooms.
Combine warm mushrooms and farro in a serving bowl. Add chopped herbs, lemon juice and parmesan. Stir to incorporate. Add freshly cracked pepper to taste. Serve while warm with 2013 Seavey Caravina.*
* Seavey recommends decanting the wine at least one hour before serving to let it open up.
Read the full article on Annie's blog Francie Pie.